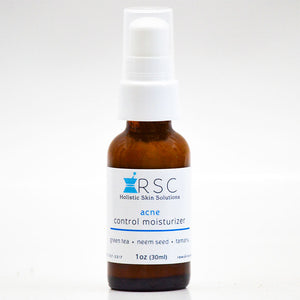 Acne Control Moisturizer is an antibacterial & healing moisturizer for all skin types. Reduces acne & works with skin's protective barrier to retain moisture & regulate sebum. Perfect for light to normal acne concerns.
1oz (30ml)

The Acne Spot Treatment is great non-drying blemish cream with a higher concentration of active ingredients to apply on pimples and better combat breakouts.
100% Raw • Cruelty Free • Chemical Free • Gluten Free • GMO Free • Vegan Friendly
Usage Guide:

Formulation & Ingredients:
optional: Prepare skin by spritzing with toner or rinsing with lukewarm water. Gently pat dry.
1) Apply pea-sized amounts of product to the desired area. Use twice daily for best results.
Always moisturize after washing your face.
Remember, a little goes a long way! Avoid overusing prodcut.
Formulation & Ingredients:
tamanu oil, neem seed oil, hemp seed oil, evening primrose oil, willow bark extract, camelina oil, apricot oil, pumpkin seed oil, l-ascorbic acid, cetyl-stearyl alcohol, steric acid, salicylic acid, azelaic acid, burdock, angelica, sage, thyme, green tea, neem leaf, ginger, ginseng, niacinamide
Acne Herbal Blend: Green Tea, Burdock Root, Angelica Root, Sage, Thyme, Neem Leaf, Ginger Root, Ginseng, Sandalwood, Rosemary, & Tea Tree Essential Oil Blend
This herbal blend has antibacterial and antiseptic qualities, plus nutrient-dense oils with anti-inflammatory and anti-bacterial properties, and high concentrations of antioxidants and Omega fatty acids 3, 6, and 9. Its low-dose acids and willowbark extract rapidly clear pores, promote healing, and reduce redness and bacteria associated with acne flare-ups.