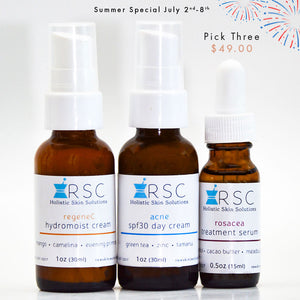 Have your pick of moisturizer, spf30 day cream, and serum - essentials for any skin routine. Formulated with specific skin needs in mind & a strict 100% raw, organic, and vegan-friendly philosophy.
Moisturizers: Light, fast-absorbing moisturizers formulated with raw oils, herbs, and butters for a nourishing cream that restores your moisture barrier.
options: Acne Hydrating Control Moisturizer, Rosacea Intense Moisturizer, RegeneC Hydromoist Cream, Youth Cocoa Butter Moisturizer
SPF30 Day Creams: Protect your skin with a non-micronized zinc blend formulated with hydrating raw herbs, butters, & oils to add moisture to your skin.
options: Acne SPF30 Day Cream, Rosacea SPF30 Day Cream, RegeneC SPF30 Day Cream
Serums: Nutrition-dense serums formulated of macerated herbs in quality carrier oils to create a carefully-curated serum designed for your specific needs.
options: Acne Deep Repair Serum, Rosacea Treatment Serum, RegeneC 3% Vitamin C Serum, Black Label Ultra Rich Hydrating Serum, Black Label Ultra Bright Rejuvenating Serum.