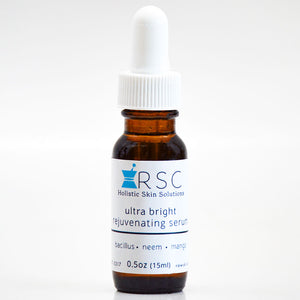 The Ultra Bright Rejuvenating Serum utilizes high-grade oils and butters for effective, deep skin nourishment with vital emollients and nutrients. This specialized solution for mature skin with fine lines, age spots, discoloration, and hypersensitivity provides a reliable nutritional treatment, especially when used during the evening. 
05.oz (15ml)
100% Raw • Cruelty Free • Chemical Free • Gluten Free • GMO Free • Vegan Friendly
Usage Guide:   

Ingredients:
optional: prepare your skin with a warm damp towel to open pores or after cleansing
1) Dispense into your hand or directly on your face
2) Massage into skin in large circular motion until it is completely absorbed.
stearic acid, argon oil, hempseed Oil, shea butter, mango butter, neem oil, tamanu oil meadowfoam oil, vitamin C, bacillus, citric acid, glycolic
Essential fatty acids nourish the skin and replenish natural lipids. Regenerative vitamins such as Vitamin E stimulate collagen growth, evening out skin tone, brightening, firming, and bringing out skin's radiance. Soothing butters and oils minimize irritation and redness. Antibacterial and antioxidant herbs reduce redness and inflammation while strengthening the skin's immunity.