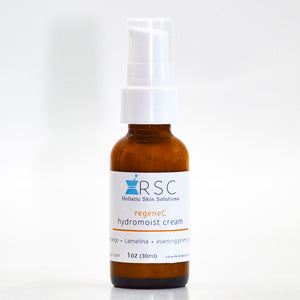 RegeneC Hydromoist Cream is specially formulated to combat dryness, particularly in mature skin. Achieve a youthful, even-toned, and glowing complexion with the enriched Vitamin C formula that stimulates collagen formation while tackling signs of aging like wrinkles and age spots.
1oz (30ml)
100% Raw • Cruelty Free • Chemical Free • Gluten Free • GMO Free • Vegan Friendly
Usage Guide:

Ingredients:
optional: Prepare skin by spritzing with toner or rinsing with lukewarm water. Gently pat dry.
1) Apply pea-sized amounts of product to the desired area. Use twice daily for best results.
Always moisturize after washing your face.
Remember, a little goes a long way!
Meadowfoam Seed Oil, Cocoa Butter, Rosehip Seed Oil, Evening Primrose Oil, Camelina Oil, Argan Oil, Borage Oil, Extra Virgin Olive Oil, Apricot Oil, Mango Butter, Tamanu Oil, Cetyl-Stearyl Alcohol, Steric Acid, Potassium Sorbate, Citric Acid. 
RegeneC Herb Blend: Chrysanthemum, Helichrysum Flowers, Orange Peel, Rosehips, Eyebright, Acerola Cherry, Cleavers, L-Ascorbic Acid.
Oils packed with unsaturated fatty acids help restore skin lipids, while hydrating butters and emollient oils supply moisture and nourishment to all skin layers. Antioxidant herbs support skin immunity and Vitamin C stimulates collagen production, brightening, toning, and evening skin texture.