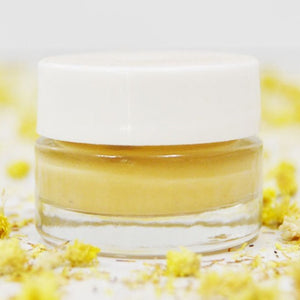 The Vitamin C Eye Cream eliminates those dark circles, fine lines, and discoloration in the eye area. Vitamin C & fatty acids infused cream encourages collagen production to reduce darkness, look rejuvenated, and moisturize dry skin. Safe for sensitive skin.

0.3oz (10ml)
100% Raw • Cruelty Free • Chemical Free • Gluten Free • GMO Free • Vegan Friendly
Usage Guide:

Ingredients:
1) Apply pea-sized amounts of product to the desired area. Use twice daily for best results.
Remember, a little goes a long way!
Argan Oil, Meadowfoam Seed Oil,  Tamanu Oil, Rosehip Seed Oil, Shea Butter, Mango Butter, Pumpkin Seed Oil, Hemp Seed Oil, L-Ascorbic Acid, Apricot Oil, Steric Acid, Cetyl-Stearyl Alcohol, Potassium Sorbate USP, Citric Acid.
RegeneC Herb Blend: Chrysanthemum, Helichrysum Flowers, Orange Peel, Rosehips, Eyebright, Acerola Cherry, Cleavers, l-Ascorbic Acid.
Oils abundant in unsaturated fatty acids help replenish natural lipids. Nourishing butters and emollient oils provide moisturization and nutrition to all skin layers. Herbal antioxidants boost immunity and Vitamin C increases collagen production, brightening and tightening the skin.