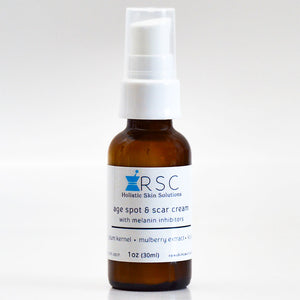 Age Spot & Scar Cream with melanin inhibitors uses our proprietary Vitamin C herbal blend to moisturize and balance the skin while strengthening its immunity and diminishing the appearance of blemishes, scars, age spots, and dark areas. Recommended for both dry and sensitive skin, users can look forward to brighter, tighter skin after removal of dead skin cells, as well as improved hydration and a healthier look and feel.
1oz (30ml)
100% Raw • Cruelty Free • Chemical Free • Gluten Free • GMO Free • Vegan Friendly
Usage Guide:

Ingredients:
optional: Prepare skin by spritzing with toner or rinsing with lukewarm water. Gently pat dry.
1) Apply pea-sized amounts of product to the desired area. Use twice daily for best results.
Always moisturize after washing your face.
Remember, a little goes a long way! Avoid overusing prodcut.
Olive Oil, Tamanu Oil, Rosehip Seed Oil, Shea Butter, Illipe Butter, Mango Butter, Pumpkin Seed Oil, Hemp Seed Oil, L-Ascorbic Acid, Plum Kernel Oil, Apricot Oil, Steric Acid, Cetyl-Stearyl Alcohol, Potassium Sorbate USP, Citric Acid. 
Vitamin C Herbal Blend:  Chrysanthemum, Helichrysum Flowers, Orange Peel, Rosehips, Eyebright, Acerola Cherry, Cleavers, L-Ascorbic Acid.
Lipids are replenished with oils high in unsaturated fatty acids, while butters and emollient oils work together to give moisture and nutrients to all layers of the skin. The antioxidant herbs provide immune system support and Vitamin C helps to improve collagen production, offering a brighter, firmer, and more even skin tone.