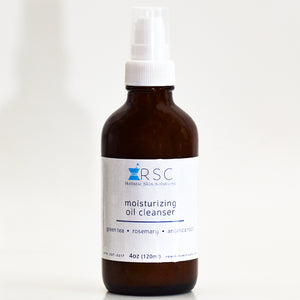 The Moisturizing Oil Cleanse is a gentle and moisturizing oil-based cleanser formulated to detoxify the skin, feeling soft and comfortable to the touch, particularly suitable for young or non-problematic skin types.
4oz (120ml)
100% Raw • Cruelty Free • Chemical Free • Gluten Free • GMO Free • Vegan Friendly
Usage Guide:

Ingredients:
1) Start by rinsing your pores with lukewarm water
2) Apply a quarter-sized portion to your skin, gently massaging in circular motion
3) Allow the cleanser to remain on your skin for about 45 seconds
4) Rinse your face with lukewarm water; avoid using hot water
5) Gently pat dry your skin afterward
Apricot Oil, Grapeseed Oil, saponified oils of olive, grape, and sunflower, Helichrysum Flowers, Rosehips, Rosemary, Green Tea
Gently remove dead skin cells with natural exfoliating ingredients while emollient oils and butters replenish lost hydration and lipids. Antibacterial and antioxidant herbs combat bacteria and aid in restoring the skin's protective layer.