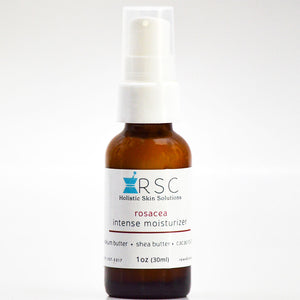 The Rosacea Intense Moisturizer is an everyday moisturizing cream soothes and reduces redness, suitable for use in any skincare routine. This moisturizer offers relief from redness and irritation with nourishing butters and oils, such as Tamanu, Meadowfoam Seed, Kokum, and Shea butters, enhanced by an herbal blend.
1oz (30ml)
See Acne+Rosacea Cream for an immune boosting moisturizer during rosacea flarups.
100% Raw • Cruelty Free • Chemical Free • Gluten Free • GMO Free • Vegan Friendly
Apply morning & evening, or as needed.
1) Apply a small amount and massage over the entire in a circular motion until completely absorbed.   
Apricot Oil, Shea Butter, Cacao Butter, Steric Acid, Kokum Butter, Cetyl-Stearyl Alcohol, Meadowfoam Oil, Hemp Seed Oil, Tamanu Oil, Xanthum Gum, Citric Acid, Potassium Sorbate, Orange EO.
Rosacea Herbal  Blend: Calamus, Comfrey Leaf, Gotu Kola, Green Tea, Red Clover, Rosehips, Sage.
Moisturizing emollients, calming butters, and replenishing natural lipids give your skin intense hydration. Our natural anti-inflammatory ingredients help soothe Rosacea and reduce pimples. Powerful antioxidant herbs reduce redness and inflammation.