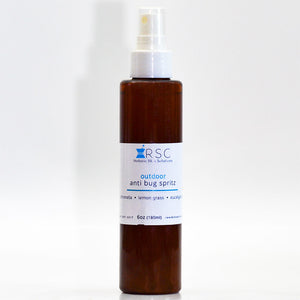 The Outdoor Anti-Bugz Spritz offers effective, all-natural insect repellency and is free of DEET. A combination of citronella and lemongrass in a herbal infusion provides effective protection against most bugs.
6oz (180ml)
100% Raw • Cruelty Free • Chemical Free • Gluten Free • GMO Free • Vegan Friendly
Usage Guide:

Ingredients:
Apply before going outdoors.
1) Keep the bottle 10-12 inches away and spray.
2) Spray until the entire affected area is lightly covered.
3) Reapply every 2-3 hours
Green Tea, Witch Hazel, Neem Seed Oil, Karanja Oil, Rosemary Herb, Citronella Oil, Lemongrass Oil, Eucalyptus Oil, Potassium Sorbate, Citric Acid, Menthol Crystals.  
Outdoor Herbal Blend  Devil's Claw Root, Dong Quai Root, Noni Powder, Echinacea Root, Ginger Root, Calendula, Comfrey Leaf