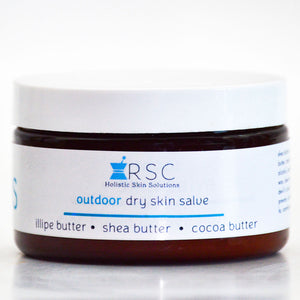 The Outdoor Dry Skin Salve is a corrective solution for dehydrated skin caused by overexposure to harsh outdoor elements. It is particularly effective on flaky, parched skin and can reduce the appearance of sunburn and windburn. Various butters is blended for deep absorption and superior moisture retention on any area of the body.
4oz (120ml)
100% Raw • Cruelty Free • Chemical Free • Gluten Free • GMO Free • Vegan Friendly
Usage Guide:

Ingredients:
Apply as needed. For a deeper treatment, warm the area with a heated towel.
1) Apply and cover the desired area with only enough product that it absorbs into the skin quickly. Drier Skin may require slightly more.
Shea Butter, Cocoa Butter, Mango Butter, Illipe Butter, Tamanu Oil, Coconut Oil, Cetyl-Stearyl Alcohol, Xanthum Gum, Steric Acid, Candelilla Wax, Bees Wax, Potassium Sorbate, Citric Acid.

Outdoor Herbal Blend: Devil's Claw Root, Dong Quai Root, Noni Powder, Echinacea Root, Ginger Root, Calendula, Comfrey Leaf.