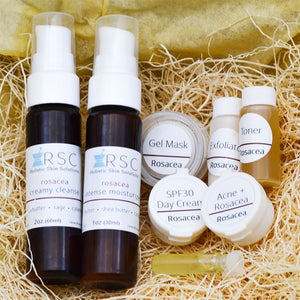 Starter Kit
Experience the greatness of the Rosacea Collection in its entirety. This starter kit is  a few weeks of the Rosacea regime so you can jump-start your skincare routine, solve your current redness/rosacea, and find out what products work best for you.
2oz (60ml) Creamy Cleanse
1oz (30ml) Soothing Toner
1oz (30ml) Intense Moisturizer
0.3oz (10ml) Red Reduction Mask
0.1 (4ml) Soothing Treatment Serum
Willow Bark Extract, Green Tea, Neem, Salicylic, Tea Tree.
For a full list of ingredients please visit individual product listings.