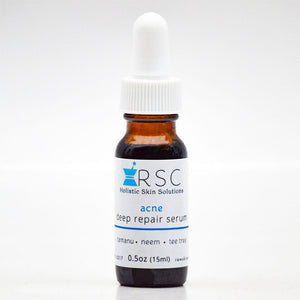 Acne Deep Repair Serum blends nutritious oils specially curated to enhance acne routines. It's infused with a macerated herbal blend for antimicrobial and antibacterial properties. This serum boost nutritional properties, restores moisture balance, and improves sebum production for healthier, more acne-resistant skin. Minimal product needed for excellent results. Superior effectiveness in facials.

0.5oz (15ml)
We recommend everyone to add this to their routine if they struggle with dry, acne-prone skin
100% Raw • Cruelty Free • Chemical Free • Gluten Free • GMO Free • Vegan Friendly
Usage Guide:

Formulation & Ingredients:
optional: prepare your skin with a warm damp towel to open pores or after cleansing
1) Dispense into your hand or directly on your face
2) Massage into skin in large circular motion until it is completely absorbed.
Formulation & Ingredients:
hemp, tamanu, apricot, meadowfoam, tea tree, citric, neem, activated charcoal, steric , salicylic, angelica, burdock, chickweed, ginger, ginseng, green tea, neem leaf, sage, thyme, rosemary, orange
Acne Herbal Blend: Green Tea, Burdock Root, Angelica Root, Sage, Thyme, Neem Leaf, Ginger Root, Ginseng, Sandalwood, Rosemary, & Tea Tree Essential Oil Blend
The herbal blend provides effective antibacterial detox components with antiseptic qualities. The nutrient dense oils have inherent anti inflammatory and anti bacterial properties combined with high immune boosting concentrations of Omegas 3,6 and 9. Highly effective blend of low dose acids & willowbark extract clears pores, promotes healing, softens redness and fights bacteria, immediately reducing the effects of acne.