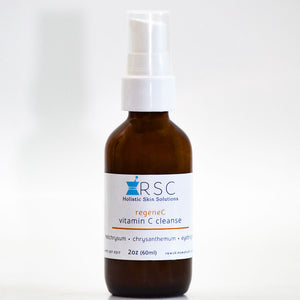 The RegeneC Vitamin C Cleanse a gentle vitamin C-infused face wash to detox pores and deposit anti-aging and skin-brightening ingredients to build your skin's immunity. This cleanse is great for dry and sensitive skin so you can wash the dead skin cells & toxins away and eliminate bacteria without irritation. 
available in 2oz (60ml) or 6oz (180ml)
100% Raw • Cruelty Free • Chemical Free • Gluten Free • GMO Free • Vegan Friendly
Usage Guide:

Ingredients:
1) Start by rinsing your pores with lukewarm water
2) Apply a quarter-sized portion to your skin, gently massaging in circular motion
3) Allow the cleanser to remain on your skin for about 45 seconds
4) Rinse your face with lukewarm water; avoid using hot water
5) Gently pat dry your skin afterward
Olive Oil, l-Ascorbic Acid, Apricot Oil, Cetyl-Stearyl Alcohol, and Potassium Hydroxide for Saponification.
RegeneC Herb Blend: Chrysanthemum, Helichrysum Flowers, Orange Peel, Rosehips, Eyebright, Acerola Cherry, Cleavers, l-Ascorbic Acid. Preservative: Potassium Sorbate USP and Citric Acid
Gently remove dead skin with natural exfoliating ingredients, while replenishing natural lipids with emollient oils. Antioxidant herbs help to boost immunity and reinforce cell strength.