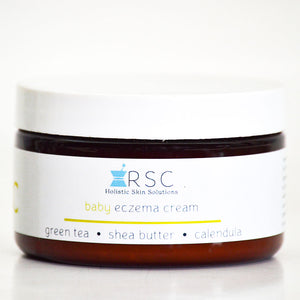 The Baby Eczema Cream Shea butter and Cocoa butter based cream provides soothing relief for dry skin and eczema in babies of all ages. An antibacterial blend of oils helps to repair and prevent irritation, aiding in the reduction of itch, redness, and dryness.

4oz (120ml)
100% Raw • Cruelty Free • Chemical Free • Gluten Free • GMO Free • Vegan Friendly
Usage Guide:

Ingredients:
1) Use pea-sized amounts at a time. A little goes a long way!
2) Massage in large circles until completely absorbed.
3) Apply 2-3 times daily or as needed.
Shea Butter, Kokum Butter, Neem Seed Oil, Tamanu Seed Oil, Mango Butter, Grapeseed Oil, Apricot Oil, Hemp Seed Oil, Pumpkin Seed Oil, Cetyl-Stearyl Alcohol, GreenTea, Potassium Sorbate USP, Citric Acid, Steric Acid 
Baby Herb Blend: Calendula, Calamus, Rosemary, Chamomile, Comfrey Leaf.