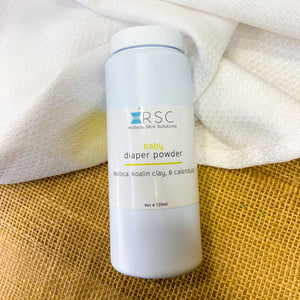 This Baby Powder is formulated without Talc for added safety. A blend of natural starches and powders combine to create an effective and gentle powder. Infused with Calendula and has a natural soft scent, it is an ideal choice.
4oz (120ml)
100% Raw • Cruelty Free • Chemical Free • Gluten Free • GMO Free • Vegan Friendly
Usage Guide:

Ingredients:
Use twice daily, or as needed.
1) Apply a thin layer and spread until the entire area of concern is covered. The powder is not recommended anywhere on the face area.
Tapioca Powder, Kaolin Clay, Arrowroot, Xanthan Gum,  Non-Nano Micron Sized Zinc, Calendula.
Baby Herbal Blend: Calendula, Calamus, Rosemary, Chamomile, Comfrey Leaf.