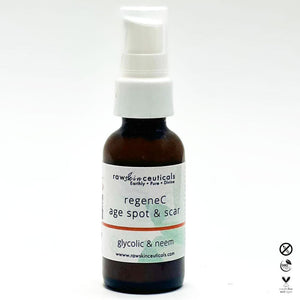 This creme is designed to moisturize and balance your skin's natural tones. Using the proprietary herb blend with vitamin C builds your skin's immunity and heals blemish spots, scars, age spots, and dark areas. Perfect for dry and sensitive skin. 

What you can expect: Brighter & tighter skin with the removal of dead skin cells, hydrated skin, and healthier-looking skin that feels as good as it looks. 
Formulated with:

Usage Guide:

Ingredients
• oils rich in unsaturated fatty acids to aid in replenish natural lipids
• rich hydrating butters and emollient oils to deliver moisture and nutrition to all layers
• antioxidant herbs to boost immunity and Vitamin C boost collagen products to brighten, tighten, and even skin tone
Apply in the evening.
1) Apply small pea-sized amounts to all dry & affected areas.
2) Massage into skin until completely absorbed.
* Always moisturize after washing your face.
Aloe Leaf Juice, Olive Oil, Tamanu Oil, Rosehip Seed Oil, Shea Butter, Illipe Butter, Mango Butter, Pumpkin Seed Oil, Hemp Seed Oil, L-Ascorbic Acid, Plum Kernel Oil, Apricot Oil, Steric Acid, Cetyl-Stearyl Alcohol, Potassium Sorbate USP, Citric Acid. 
RegeneC Herb Blend:  Chrysanthemum, Helichrysum Flowers, Orange Peel, Rosehips, Eyebright, Acerola Cherry, Cleavers, L-Ascorbic Acid.