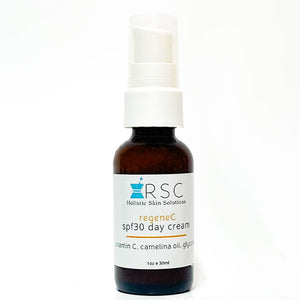 Shield your skin from UVA/UVB rays with the RegeneC SPF30+ Day Cream, enriched with a Vitamin C herbal blend to strengthen your skin's rejuvenating qualities and aid in healing sun-exposed skin. Gentle enough to use on sensitive skin and hydrating for dry skin.

1oz (30ml)
100% Raw • Cruelty Free • Chemical Free • Gluten Free • GMO Free • Vegan Friendly
Usage Guide: 

Ingredients
optional: Prepare skin by spritzing with toner or rinsing with lukewarm water. Gently pat dry.

1) Apply pea-sized amounts of product to the desired area.
2) Apply before going outside and after 3 hours of sun exposure.
Remember, a little goes a long way!
Rosehip Seed Oil, Evening Primrose Oil, Camelina Oil, Argan Oil, Borage Oil, Extra Virgin Olive Oil, Non-Nano Micron Sized Zinc Oxide, Apricot Oil, Mango Butter, Tamanu Oil, Cetyl-Stearyl Alcohol, Steric Acid, Potassium Sorbate, Citric Acid. 
RegeneC Herb Blend: Chrysanthemum, Helichrysum Flowers, Orange Peel, Rosehips, Eyebright, Acerola Cherry, Cleavers, L-Ascorbic Acid.
Emulsifying oils & butters deeply hydrate, soothe delicate skin, and restore natural oils. Non-clogging, non-nano Titanium & Zinc blend provides broad-spectrum SPF30+ protection. Antioxidant herbs activate immunity, while Vitamin C boosts collagen production to strengthen cells and heal sun damaged skin.