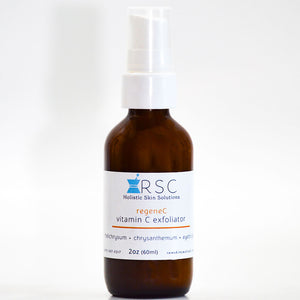 RegeneC Deep Exfoliator is a vitamin C-infused face wash that detoxes skin, washes away impurities with fine vegan pumice, and deposits anti-aging and skin-brightening ingredients to build your skin's strength. This exfoliator is great for dry and sensitive skin so you can wash the dead skin cells & toxins away and eliminate bacteria without irritation. 

available in 2oz (60ml) or 6oz (180ml)
100% Raw • Cruelty Free • Chemical Free • Gluten Free • GMO Free • Vegan Friendly
Usage Guide:

Ingredients:
1) Start by rinsing your pores with lukewarm water
2) Apply a quarter-sized portion to your skin, gently massaging in circular motion
3) Allow the cleanser to remain on your skin for about 45 seconds
4) Rinse your face with lukewarm water; avoid using hot wate
5) Gently pat dry your skin afterward
Limit exfoliation to 1-2 times weekly to avoid potential breakouts due to micro-tears and dehydrated skin.
Olive Oil, L-Ascorbic Acid, Apricot Oil, Cetyl-Stearyl Alcohol, Fine Pumice, Salicylic Acid, and Potassium Hydroxide for Saponification.
RegeneC Herb Blend: Chrysanthemum, Helichrysum Flowers, Orange Peel, Rosehips, Eyebright, Acerola Cherry, Cleavers, L-Ascorbic Acid. Preservative: Potassium Sorbate USP and Citric Acid.
Natural exfoliating ingredients (& vegan pumice for more thorough exfoliation) help clear dead skin, emollient oils hydrate and restore natural lipids, while antioxidant herbs and Vitamin C boost collagen for improved luminosity, firmness, and even complexion.