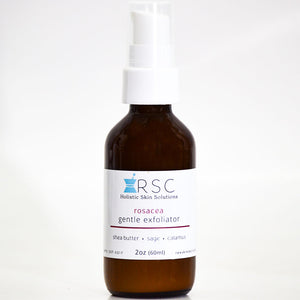 The Rosacea Gentle Exfoliator is specially formulated for delicate skin. The exfoliator washes away bacteria, removing dead skin cells and impurities from pores. Enriched with nourishing oils, this deep moisturizing cleanse helps to reduce redness and irritation associated with rosacea.
available in 2oz (60ml) or 6oz (180ml)
See the Rosacea Creamy Cleanse for gentler and moisturizing face wash.
1) Start by rinsing your pores with lukewarm water
2) Apply a quarter-sized portion to your skin, gently massaging in circular motion
3) Allow the cleanser to remain on your skin for about 45 seconds
4) Rinse your face with lukewarm water; avoid using hot wate
5) Gently pat dry your skin afterward
Limit exfoliation to 1-2 times weekly to avoid potential breakouts due to micro-tears and dehydrated skin.
Shea Butter, Apricot Oil, Olive Oil, Pumice, Xanthan Gum, Steric Acid, Citric Acid, Orange Essential Oil, Potassium Hydroxide, and Potassium Sorbate. 
Rosacea Herb Blend: Calamus, Calendula, Comfrey Leaf, Gotu Kola, Green Tea, Red Clover, Rosehips, Sage.
Formulated with emollient oils to hydrate and replenish natural lipids, this exfoliator features natural exfoliating ingredients to delicately slough away dead skin cells. Further, antioxidant herbs aid in reducing redness and inflammation.