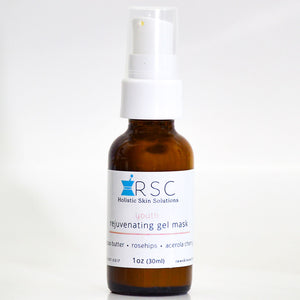 The Youthful Hydrating Gel Mask is formulated for all/normal skin types. Its purpose is to replenish hydration and revitalize cells, aiding in eliminating dead skin cells, bacteria and other impurities, ultimately brightening and evening the skin tone.
1oz (30ml)
100% Raw • Cruelty Free • Chemical Free • Gluten Free • GMO Free • Vegan Friendly
Usage Guide:

Ingredients:
optional: prepare your skin with a warm damp towel to open pores or apply after cleansing
1) Spread all over desired areas, making certain the areas are lightly covered.
2) Leave on until just dry or no longer than 15 minutes.
3) When mask is dry, rehydrate using a warm cloth, gently rinsing until all gel is removed.
4) Moisturize with the Youthful Cocoa Butter Moisturizer
Agar-Agar, Arrowroot, Aha Fruit Acid, l-Ascorbic Acid, Rosehip Seed, Evening Primrose Oil, Tamanu Oil, Shea Butter, Mango Butter, Meadowfoam Seed Oil, Cetyl-Stearyl Alcohol, Apricot Oil, Argon Oil, Xanthum Gum, Potassium Sorbate, Citric Acid.
Youthful Herb Blend: Chrysanthemum, Helichrysum Flowers, Orange Peel, Rosehips, Eyebright, Acerola Cherry, Cleavers, L-Ascorbic Acid.
Oils high in unsaturated fatty acids help regenerate skin and replenish essential lipids. Rich hydrating butters and emollient oils deliver replenishing moisture and nutrients to all layers. Powerful antioxidant herbs can increase immunity, brighten, firm, and even skin tone.