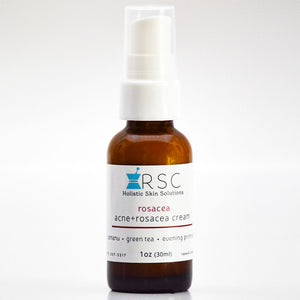 The Acne+Rosacea Cream is a gentle blemish treatment for those with sensitive skin, redness, and Rosacea-induced pimples. This cream is rich in emollients to moisturize and reduce inflammation, and combines the antibacterial and inflammation control agents with intense hydration. This cream is also commonly used as a Rosacea night cream.
1oz (30ml)
The Rosacea Intense Moisturizer is our gentlest and most hydrating moisturizer that is 100% safe for sensitive skin.
100% Raw • Cruelty Free • Chemical Free • Gluten Free • GMO Free • Vegan Friendly
optional: Prepare skin by spritzing with toner or rinsing with lukewarm water. Gently pat dry.
1) Apply pea-sized amounts of product to the desired area. Use twice daily for best results.
Always moisturize after washing your face.
Remember, a little goes a long way! Avoid overusing prodcut.
Apricot Oil, Shea Butter, Cacao Butter, Steric Acid, Kokum Butter, Cetyl-Stearyl Alcohol, Tamanu Oil, Hemp Seed Oil, Neem Seed Oil, Xanthan Gum, Zinc Oxide, Rosemary, Tea Tree, Willowbark Extract, Activated Charcoal, Menthol, Citric Acid, Salicylic Acid, Potassium Sorbate.
Rosacea Herb Blend: Calamus, Comfrey Leaf, Gotu Kola, Green Tea, Red Clover, Rosehips, Sage.
Moisturizing emollients, calming butters, and replenishing natural lipids give your skin intense hydration. Our natural anti-inflammatory ingredients help soothe Rosacea and reduce pimples. Powerful antioxidant herbs reduce redness and inflammation.