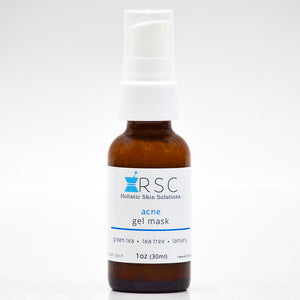 This Acne Gel Mask rests on the surface of your skin to purify and treat acne. Loaded with antioxidants, antibacterials and emollient ingredients, this mask exfoliates and moisturizes, while providing powerful acne control when used as a cream and massaged into the skin.
1oz (30ml)
The Acne Clay Mask is used to draw out bacteria and exfoliate deeper.  The Gel mask is designed to penetrate, nourish, and lightly exfoliate.
100% Raw • Cruelty Free • Chemical Free • Gluten Free • GMO Free • Vegan Friendly
Usage:

Formulation and Key Ingredients:
optional: prepare your skin with a warm damp towel to open pores or apply after cleansing
1) Spread all over desired areas, making certain the areas are lightly covered.
2) Leave on until just dry or no longer than 15 minutes.
3) When mask is dry, rehydrate using a warm cloth, gently rinsing until all gel is removed.
4) Moisturize with the Control Moisturizer or Deep Repair Serum.
Formulation and Key Ingredients:
agar-agar, apricot oil, steric acid, guar gum, neem oil, hemp seed oil, salicylic, zinc, cetyl-stearyl alcohol, xanthan gum, citric, tamanu oil, potassium sorbate, azelaic acid, bromelain angelica, burdock, chickweed, ginger, ginseng, green tea, neem leaf, sage, thyme, tea tree, rosemary, niacinamide
Acne Herbal Blend: Green Tea, Burdock Root, Angelica Root, Sage, Thyme, Neem Leaf, Ginger Root, Ginseng, Sandalwood, Rosemary, & Tea Tree Essential Oil Blend
The herbal blend provides effective antibacterial detox components with antiseptic qualities. The nutrient dense oils have inherent anti inflammatory and anti bacterial properties combined with high immune boosting concentrations of Omegas 3,6 and 9. Highly effective blend of low dose acids & willowbark extract clears pores, promotes healing, softens redness and fights bacteria, immediately reducing the effects of acne.